'His stuff is only going to get better,' Young Money princess says. (He is opening up to more people)
Alright I admit it. This is not what Nicki Minaj said about her friend Lil Wayne who is in jail.
Nicki Minaj Says Lil Wayne Had An 'Epiphany' In Prison
Still I wonder about her hyped up views of Lil Wayne. The best thing she can do for him is keep him off of the drugs.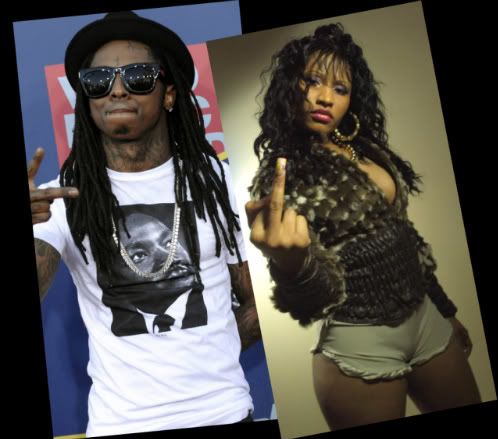 Nicki Minaj has a lot to be excited about these days. Not only is the Young Money MC gearing up for the release of her debut album in November, she's also featured on a new track with Jay-Z and Kanye West and celebrated a Twitter marriage (and divorce) with Drake.

But while the animated rapper remains busy, she is also anticipating Lil Wayne's release from prison. In a recent radio interview, Minaj spoke about her mentor and why she feels the need to make Pink Friday a success.

"Can you only imagine what he's been holding and what's building up in that brain?" Minaj asked Greg Street of Atlanta radio station V-103. "I'm afraid for anybody ... any of his competition when he gets out, because I just feel like it's going to be monumental. He's in a great state. When I speak to him, he sounds like he has some sort of clear understanding of everything now, almost like he's had some weird sort of epiphany since he's been there, so I'm sure his stuff is only going to get better."

When Lil Wayne left for prison, Minaj realized just how much he meant to his rap crew. "He didn't deserve to go in the first place, and it's kind of crazy how much of a void it's been without him," she said. "We didn't realize Wayne is really the glue that holds Young Money and Cash Money together, I feel. I'm just very, very thankful that he's finally coming home."

The 25-year-old MC is ready for the whole Young Money crew to take over the rap game. "We're just really, really hard workers, and you know what? At some point, I would hope the hard work pays off, at least on my end," she said. "It's definitely already paid off for Wayne and for Drake, so I want to thank everybody for supporting Young Money, period."

So what happens if the New York native falters with her debut album? "They won't look to sign other female rappers if the project doesn't do well, because they're going to say, 'Well, her buzz was so crazy, and if she couldn't do it, then no one can do it,' and I don't want that to happen. So I'm doing this as well for all the girls."

The Young Money darling is staying positive as she hopes to pave the way for the females to come in the rap game. "I hope it will open doors for all girls everywhere who ever wanted to pick up a mic and rap and who have been kind of afraid to do it," she said. "For a long time in my life, I was afraid to be a solo female rapper, because everyone told me, 'It doesn't work. It's not going to happen. Record companies are never going to invest in you just to get it. Just be part of a group.' "

Nonetheless, Minaj values her pre-album success, saying, "Even as far as I've come now is already a testament in my mind, so I hope the female rappers understand how big it is for our culture that the album does well."

Do you think Nicki can match the success of her Young Money peers? Share your thoughts in the comments below!